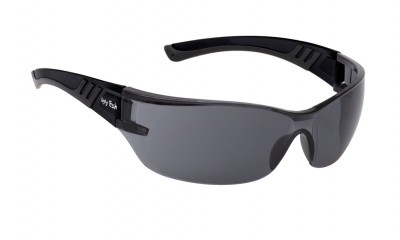 Aussie eyewear specialists Ugly Fish have added three new models to their range of sunglasses for motorcyclists; the fully wrap-around Commando (£19.99), classically styled Slingshot (£34.99) and the Bullet (£39.99) glasses/goggle.
All are available with a choice of clear or smoke grey lenses. Clear lenses are a popular alternative to goggles for use with open-face helmets, while grey is a common choice for bright light conditions, designed to absorb and darken sunlight and glare effectively.
All Ugly Fish motorcycle eyewear features Polycarbonate De-centered safety (PC-DS) lenses – approved to European standards for both safety and sunglasses – so they won't shatter if they come into contact with flying objects or during a collision/fall. They're also manufactured to be distortion free, providing high optical clarity. With anti-scratch and anti-fog coatings (the latter is used on both sides of each lens), they offer crystal clear vision at all times.
Tough and flexible matt black wrap-around frames feature throughout the range and are shaped to fit easil
y and
comfortably inside helmets; the Commando can be purchased with red frames. The Bullet come with detachable foam inserts to protect the eyes from wind and dust and an adjustable elastic strap with t-clip for a more secure fit, especially useful if wearing the Rocket sunglasses for other outdoor activities such as cycling or fishing. For details and a list of frame and lens options, call O117 971 92OO or visit www.weiseclothing.com/weise-site
Editor's Notes: Polycarbonate De-centered safety lenses comply with European Safety Standard I.S. EN 1938-1999 and Sunglasses Standard I.S. EN 1836-2005 Personal Eye-equipment. Established in 2001, Ugly Fish is Australia's number one selling brand of motorcycle eye wear.