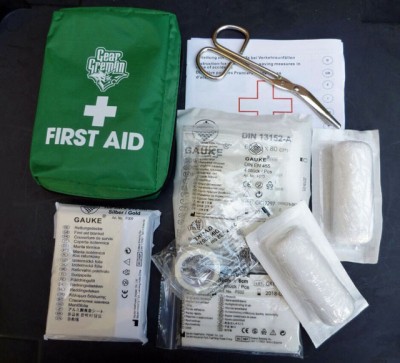 Specifically created for motorcycle riders, Gear Gremlin's new emergency first aid kit is light and compact, so it's easy to carry.
Carrying a first aid kit means that even those without any medical training have the essential items to treat common minor injuries, as well as a foil blanket, which is useful in cases of hypothermia, as well as coming in handy if your bike breaks down on a cold day!
Packed inside the nylon pouch you will find adhesive plaster tape and adhesive plaster bandages, as well as a sterile dressing bandage and sterile burn compression bandage. The foil first aid blanket plus scissors, disposable gloves and an instruction booklet are also included.
Measuring 15 x 10 x 5 cm and weighing less than 250 g, the Gear Gremlin First Aid Kit sells for £8.99 including VAT.
Exclusively distributed by the Key Collection, there are more than 280 product lines within the Gear Gremlin range.