Draggin Jeans Awarded CE Level 2
On the 19th of March 2013, 3 years after achieving the world's first CE Approved Jeans at Level 1, Draggin Jeans Pty Ltd has been awarded the highest accolade possible for motorcycle protective clothing with the company's fully CE Approved Level 2 jeans.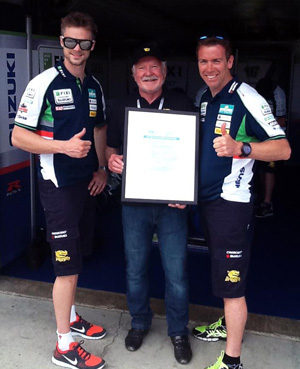 Again the family owned Australian business has proved its jeans are the best motorcycle jeans you can buy, and will perform the best for motorcycle riders in case of an off. Being awarded with Level 2 CE Approval means Draggin have a street fashion jean which offers more protection than the leather race suits of some major brands.
The "Draggin Promise" is to deliver the safest motorcycle jeans and Grant Mackintosh, CEO and founder of Draggin Jeans Pty Ltd, really takes his promise personally for his fellow riders. Grant couldn't have been prouder "Our company is, and always will be, in the business of protecting motorcyclists. And I really mean what I say. Draggin is dedicated to ensuring that our lining remains at the forefront of fibre technology and provides the safest motorcycle clothing possible."
A regular track rider himself, Grant said "This means Draggin's protective lining now lasts more than 7 seconds, which is very likely better than the leathers I have been racing in at Phillip Island. The true meaning of achieving full CE Approval at Level 2, the highest possible motorcycle standard, is that our customers can have utter confidence in Draggin products".
SATRA Technology Centre is an independent body that operates out of Northamptonshire, in the United Kingdom, and is ultimately responsible for granting Draggin Jeans' CE Approval. Draggin have been sending products to the labs for over 8 years, with the objective of having the world's best safety products.
"Our riders now have the widest range of choice at Draggin, whether they purchase our entry level Classic Jeans, our C-Evo Jeans (Level 1 CE Approved) or now they can elect to have Holeshot Jeans (Level 2 CE Approved), whatever riders choose, they'll know with any product in the Draggin range they are getting the very best." said Mackintosh
Obtaining the CE Approval Level 2 was no easy feat, but we knew we had to keep going to achieve the highest possible level of motorcycle safety standard. We have worked with the most recognised safety consultants in the industry, such as Paul Varnsverry, one of the most well respected names in motorcycle safety who has been instrumental in improving safety standards throughout the world. Paul was equally elated to hear of this achievement:
This latest achievement by Draggin Jeans demonstrates the benefits to riders when company's embrace product development and use the European Standards to drive forward improvements in the safety performance of their motorcycle clothing.
"Grant and his team have greatly impressed me with their diligent, methodical and, importantly, totally committed approach to developing not only better and higher performing products, but garments that motorcyclists will want to own and wear. Protective clothing that is as comfortable as Draggin Jeans' new "Holeshot" Level 2 jeans are more likely to be worn by riders and consequently to be in place should they part company with their motorcycle" Paul concluded.
Draggin Jeans is, and always will be, in the business of protecting motorcyclists. We are dedicated to ensuring that the lining remains at the forefront of fibre technology and provides the safest protection possible. Having achieved CE Approval at Level 2 encourages us to keep improving rider safety, comfort and freedom.
The CE Level 2 jean is called Holeshot, and is already in production, so please watch out for future announcements. A special feature to highlight is the protective lining Draggin have used in Holeshot, which has climate control features that take heat away from the skin, it has wicking to take moisture away from the skin and it has anti-bacterial features to keep you fresh. Draggin Jeans is a company that is focused on innovation in every aspect of the business.
Background
There's not many companies that can say the boss literally put his butt on the line to prove his product's safety, but Draggin Jeans can.
Founder of the iconic motorbike apparel Draggin, Grant Mackintosh tested the limits when he snuck off to the Calder racetrack to physically, be dragged along the asphalt wearing a pair of his jeans. In doing so, he put his money where his mouth was, and proved to the world of manufacturing, that Draggin Jeans were everything he declared them to be.
Today, Draggin Jeans has a strong foothold in the international market and the company has gained great respect amongst retailers and motorcycle riders around the world.
Back, in the 1990's, Grant Mackintosh was a jean manufacturer who was determined to introduce a high-safety jean which riders could wear with confidence on their motorcycles. It took years of testing and research for Grant to find just the right recipe.
Grant and Julia Mackintosh did their research and talked to the riders of Australia, and when they realised what they were wearing, and what those jeans would do to protect them during an off. This was the birth of the Draggin label.
Today, the Draggin label is in the firm and dedicated hands of the second generation of the Mackintosh family, Grant & Julia's daughters. Fiona is now General Manager and sister Lucy plays a key role in production. Grant is more focused on the search to fine tune an already incredible recipe. "I continue to learn about the science of the product, and further develop the most technically advanced motorcycle jeans in the world," Grant says.
The initial drag test – the visual of a young Grant Mackintosh being tied to the back of a Holden, via his feet and increasing speed at ten kilometres increments is hard to shake…as is the picture of an alarmed family at home. Fiona recalls very clearly this time and says "Dad later told us that the driver actually had the radio turned on which was a worry when he was trying to be heard. The jeans performed remarkably well, and the boss was ok. "Dad got up to 100 kilometres an hour," says Fiona. Grant Mackintosh repeated his incredible feat a few times during that early Draggin era, before a stunt man was called in for the honours in subsequent testing.
From those early moments of pure Aussie madness, Draggin Jeans are now the only CE Approved jeans in the world. CE or Conformité Européenne, translates to European Conformity' and is a universally recognised symbol of product quality and durability.
During the stringent CE testing, the Draggin C-Evo Jean was put through its paces to replicate the same abrasion and impact experienced during a motorbike rider's accident. It passed all the tests and exceeded.
But let's take a closer look at the Draggin jeans and what makes them the 'awe' of every man and woman with a bike.
"The science behind the jeans is all in the lining…the lining is knitted in a particular way that the loop of the weave faces the road. What that means, is that when the rider is sliding, during an off, the knit of the fabric acts to dissipate the heat away from the body. It slows you down so that you don't get as much friction and thus minimises injury," says Fiona.
It's that lining that represents a revolution in fibre technology. With military grade + Kevlar® and Dyneema®, the World's Strongest Fiber™ forming its core, the lining is soft, breathable, flexible and non-allergenic. Draggin Jeans takes advantage of Dyneema's amazing strength to weight ratio to deliver unrivalled safety, resilience and comfort.
The products are manufactured under the strictest quality control, and are constructed with high quality natural fibres and are lined along all major crash points.